Global Safety Index is a membership-based service, providing not only individual service to member organisations but also access to a collaborative community of safety professionals and organisations.
IT'S AS EASY AS
ONE, TWO, THREE
Global Safety Index offers a membership based system for access to the platform. Simply choose between 1, 2 or 3 year membership. 
The most popular membership is three years.  Three years enables organisations to monitor and track their performance over an extended time period to measure the impact of change.
Membership provides not only an individual service from a dedicated consultant, but also access to a collaborative community of organisations, safety and operational professionals.
Full membership provides access to the entire Global Safety Index platform, including:
Safety Leadership Index
Safety Culture Index
Mental Health Index 
At GSI we understand that each business is unique, and so are its needs. To ensure you get the most value from our solutions, we don't use a one-size-fits-all pricing model. Instead, we first offer a free demonstration to better understand your specific needs, this usually takes a maximum of 30 minutes.  After this, we will provide a personalised quote based on your requirements and budget.
When you become part of GSI, you not only unlock the ability to measure and monitor critical inputs such as leadership, culture and mental health insights but also join a like-minded community of professionals!
Request a Demo and Pricing
By submitting your contact details you agree that Global Safety Index may contact you regarding offers, updates, and other marketing messages in accordance with our privacy policy.
Pricing* is for an annual membership (1 year) and based on number of employees, contractors or equivalent. 
Discounts apply for combining all products.
Discounts apply for 2 and 3 year memberships.
A one-off setup fee of $3,500** is payable per customer to establish user profile, setup support and administer client log-in details.
*All costs are $AUD.
**Setup costs for Enterprise may vary depending on complexity and size.
Organisation size

Safety Leadership Index
(SLI)
Safety Culture Index
(SCI)
Mental Health Index
(MHI)
All Products
(SLI,SCI,MHI)
Small
(<500 FTE)

$55 per person

$6,500

$6,500

$9,500

Medium
(501-2000 FTE)

$45 per person

$11,500

$11,500

$16,500

Large
(2001 - 5000 FTE)

$35 per person

$16,500

$16,500

$24,500

Enterprise

$POA

$POA

$POA

$POA
Build worker engagement by providing a platform to understand specifically what is working and not working in relation to safety culture and leadership.
"Without data, you are just another person with an opinion".  GSI Supports informed decision making by providing indisputable facts regarding leadership, culture and mental health literacy.
GSI allows an organisation to develop a clear strategic roadmap for immediate action and continued long term improvements in safety and wellbeing performance, based on an objective analysis of safety strengths and opportunities for development.
Quantitative insights enable time, energy and resources to be focused on specific safety improvement areas which maximises the return on investment and reduces resource waste.
Surveys can be completed in over 30 different languages and use licensed translation services to ensure context is not lost.
Helps meet ISO standards such as ISO 45001 (safety management systems) and  ISO45003 (Psychological health and safety at work)
Members have access to a global community of like-minded leaders and the latest research and thinking around safety.
Integrated benchmarking tools to measure performance year on year, both internally and externally.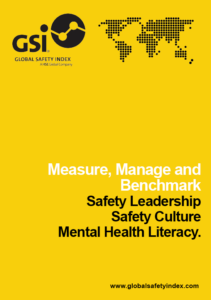 Download the latest brochure